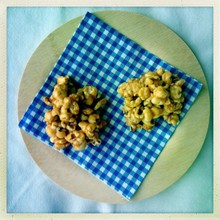 Salted Butter Caramel Popcorn Clusters
---
Ingredients:
1 tblspn salted butter
80g popcorn kernels
For the salted butter caramel:
150g sugar
100ml double cream
40g golden syrup
40g butter
½ tspn salt
Serves: Makes 16 - 18
Method:

Heat the butter in a large, lidded frying pan on a medium to high heat. Add the popcorn kernels and place the lid on the pan. When you hear the corn popping, you are in action. Shake the pan to make sure all the kernels get popped. Once they sound like they have stopped popping, remove and set aside in a bowl.
Add half the sugar to a pan with 2 tbsp water. Place on a high heat and leave to melt. Do not stir; instead, swirl the pan around if necessary. Once the caramel becomes a dark reddish brown, take it off the heat and add the rest of the ingredients. Be careful not to stand directly over the pan as the caramel will steam and bubble a lot. Swirl the pan around before returning to a medium heat. Cook for 3-4 minutes or until the caramel reaches around 120C and is rich, thick and unctuous.
Stir into the popcorn and form into clusters in an oiled muffin tin or in cupcake cases. Leave in the fridge to set.