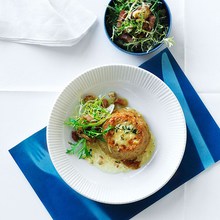 Double Baked Cauliflower & Gruyere Souffle
---
Ingredients:
100 gm butter, plus extra for greasing
½ leek, thinly sliced
1 clove garlic, coarsely chopped
175 gm cauliflower florets
40 ml dry white wine
185 ml chicken or vegetable stock
1 tbsp thyme leaves, plus extra for garnish
60 gm plain flour
350 ml warm milk
120 gm finely grated Gruyère
4 eggs, separated
350 ml pouring cream
Frisée & Lardon Salad
40 ml olive oil
100 gm speck, cut into lardons
100 gm cauliflower florets
1 tbsp white wine vinegar
1½ cups frisée
Serves: 6
Method:

Melt 40gm butter in a saucepan over medium-high heat, add leek and garlic and cook for 4-5 minutes or until soft, add cauliflower and cook for another 3-4 minutes. Add wine, bring to the boil, then add stock and thyme and bring to the boil. Reduce heat to medium, simmer for 12-15 minutes or until cauliflower is very soft and liquid is almost evaporated. Season to taste with sea salt and freshly ground white pepper, then process in a food processor until smooth.
Preheat oven to 180C. Melt remaining butter in a saucepan over medium heat, add flour and cook, stirring continuously, for 1-2 minutes. Add milk, whisking continuously until smooth, bring to a simmer and cook for 2-3 minutes or until thick. Remove from heat, add 80gm Gruyère and mix to combine, then add yolks and mix to combine. Add cauliflower purée and season generously to taste.
Whisk eggwhites and a pinch of salt until firm peaks form. Fold one third of eggwhites through cauliflower mixture to lighten, then fold in remaining eggwhites. Divide among six buttered 1 cup-capacity metal dariole moulds, place in a roasting pan and fill halfway up sides with hot water. Bake for 25-30 minutes or until golden and risen, stand in mould for 5 minutes, then turn out onto a baking paper-lined tray (this can be done up to 2 hours before serving).
Place soufflés in a small buttered roasting pan and pour over cream. Scatter tops with remaining Gruyère and thyme leaves and bake for 15-20 minutes or until golden.
Meanwhile, for frisée and lardon salad, heat 1 tbsp olive oil in a frying pan over medium-high heat, add speck and cook for 4-5 minutes, then transfer to a bowl using a slotted spoon. Add cauliflower to pan, cook for 7-8 minutes or until golden and add to speck. Add vinegar and remaining olive oil to pan, season generously to taste and pour over cauliflower mixture. Cool slightly, add frisée and toss to combine.
Serve soufflés with cream from baking pan spooned over and salad to the side.