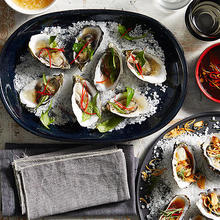 Vietnamese Inspired Gin Oysters
---
Ingredients:
60 ml (¼ cup) gin
60 ml (¼ cup) rice vinegar
2 tbsp fish sauce
1 tsp palm sugar
3 coriander roots, cleaned and thinly sliced
2 red Asian shallots, finely chopped
1 lime, juiced
12 oysters, freshly shucked
500 g coarse sea salt
2 red birds-eye chillies, seeded and julienned
6 Vietnamese mint leaves, thinly sliced
Borrowed from Luke Nguyen on SBS
Serves: 12
Preparation time: 15 minutes
Method:

Place the gin, vinegar, fish sauce, palm sugar and coriander roots in a small saucepan and bring to the boil. Remove from the heat and stand until cool. Stir in the shallots and lime juice.
Place the sea salt on a serving platter or chopping board, then nestle the oysters in the salt so that each sits flat and you don't lose any precious juices. Spoon 1 teaspoon of the dressing over each oyster, then garnish with a little chilli and Vietnamese mint.