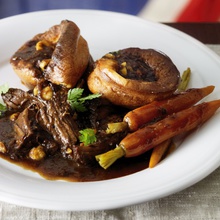 Beef In Stout With Yorkshire Puddings
---
Ingredients:
1.5kg piece beef blade, tied at 2cm intervals to form an even shape 20g butter
2 tablespoons olive oil
2 onions, halved, thinly sliced
2 teaspoons thyme leaves
2 bay leaves
1 tablespoon tomato paste
2 tablespoons plain flour
750ml (3 cups) Guinness stout
8 pitted prunes, finely chopped 2 bunches baby carrots, trimmed
50g roasted peeled hazelnuts, roughly chopped
2 tablespoons chervil or flat-leaf parsley
Yorkshire Puddings
4 eggs
200g (1 1/3 cups) plain flour
500ml (2 cups) milk
3 teaspoons olive oil
Serves: Serves 6
Preparation time: Prep 30 minutes Cook 3.5 hours
Method:

Season beef with salt and pepper. Heat butter and oil in a large casserole over medium heat. Brown beef, turning, for 6 minutes. Remove beef. Add onions, herbs and 1 teaspoon salt to pan, and stir for 8 minutes or until onions are soft. Stir in tomato paste and flour, and cook for 1 minute, then stir in stout. Return beef to pan with prunes, bring to a simmer and cook, covered, for 2½ hours, turning halfway. Add carrots. Cook for a further 30 minutes or until beef is tender.
Meanwhile, for Yorkshire puddings, process eggs, flour, milk and 1 1/2 teaspoons salt in a food processor until smooth. Transfer to a jug and rest for 30 minutes.
Remove beef and carrots from sauce. Simmer sauce over medium heat for 30 minutes or until liquid has halved.
Meanwhile, place a 12-hole (1/3-cup/ 80ml) muffin pan in oven and preheat to 250C. Remove tray, pour 1/4 teaspoon oil into each hole and return to oven until oil smokes. Pour batter among holes. Bake for 25 minutes or until puffed.
Untie beef, tear into large chunks and return to sauce with carrots. Divide among plates, scatter with nuts and chervil, and serve with Yorkshire puddingss.