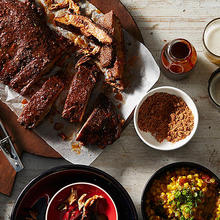 Memphis Style Smoked Ribs
---
Ingredients:
1½ kg American-style pork ribs
80 ml (⅓ cup) oil
Tennessee pig rub
75 g brown sugar
75 g sea salt flakes
40 g sweet paprika
25 g cinnamon
25 g mixed spice
10 g garlic powder
10 g onion powder
Kansas City barbecue sauce
½ tsp groundnut oil
1 tbsp mild chilli powder
½ tsp ground black pepper
2 tsp onion powder
2 tsp garlic powder
½ tsp sea salt
160 ml quality ketchup
50 ml American mustard
1½ tbsp cider vinegar
2 tsp tomato puree
1½ tbsp Worcestershire sauce
2 tbsp black treacle
2 tbsp honey
½ tsp hot chilli sauce
90 g dark brown sugar
Dry shake
75 g (⅓ cup firmly packed) brown sugar
¼ cup paprika
1½ tbsp garlic powder
1 tbsp ground black pepper
1 tbsp onion powder
1 tsp rosemary powder
½ tsp celery salt
Borrowed from Luke Nguyen at SBS Food
Serves: 4
Preparation time: Preparation : 1 hr Cook : 6 hrs
Method:

To make the pig rub, place all the ingredients in an airtight container, seal and shake well to combine. This will make more than you need for this recipe but it will keep in a cool dark place for up to 3 months.
Using a sharp knife, remove the membrane from the underside of the ribs and discard. This is an important step in making the ribs melt in the mouth tender. Oil the front and back of the ribs. Massage ¼ cup of the pig rub over the front side of the ribs, then massage another 1½ tablespoons over the back of the ribs. Place in a container, cover well with plastic wrap and refrigerate for 2 hours.
Preheat the oven to 110ºC. Place the ribs in a baking dish and bake for 6 hours, turning occasionally or until the meat is nearly falling off the bone.
Meanwhile, to make the barbecue sauce, heat the oil in a large saucepan over low heat, then add the dry spices and stir for 2 minutes or until fragrant. Stir in the remaining ingredients, then simmer over medium heat, whisking regularly for 15 minutes or until thickened. Check the seasoning and adjust if necessary. You can use the sauce immediately or pour into sterilised bottles and refrigerate for up to 2 months.
To make the dry shake, place all the ingredients into a container (like a salt shaker) so you can shake it up, turn it upside down and shake onto your cooked ribs.
Serve the ribs with the barbecue sauce, dry shake and plenty of napkins.