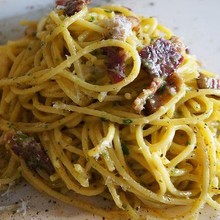 Spaghetti Carbonara
---
Ingredients:
360g spaghettini
2 large eggs
2 egg yolks
200g of pancetta
60g pecorino cheese
60g parmigiano
Freshly cracked pepper
Serves: 4
Preparation time: 15 minutes
Method:

Bring to boil 5 litres of salted water and add a generous amount of salt. Add your spaghettini and allow to cook for about eight minutes. Strain the pasta and retain a glass of the cooking water.
Place a frying pan over a medium-high heat, add the pancetta and cook until crispy. While your pancetta is cooking add the eggs, pecorino and parmigiano to a small bowl and whisk until well combined. When the pancetta is golden, remove the frying pan from the heat.
Add the drained, cooked pasta to the crispy pancetta and return to the heat. Slowly add the cooking water and stir the pasta continuously to avoid sticking. This should only be done over a medium heat for a few seconds to remove excess water.
Remove your pan from the heat and add in the egg mixture and toss well until eggs have thickened; the residual heat will do most of the work. If the mixture is too thick you can add additional reserved water. Do not place the mixture over the heat, otherwise your eggs will scramble. Taste to see if your pasta needs additional salt, as some pancetta may not be overly salty. Add freshly cracked pepper and grated pecorino cheese and serve immediately.