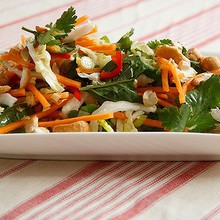 Vietnamese Coleslaw
---
Ingredients:
1/2 wombok cabbage
5 spring onions, finely sliced
2 medium carrots, finely julienned
1/2 bunch coriander, washed
1/2 bunch Thai basil
1 long red chilli
60g cashews, toasted
1/2 garlic clove, finely chopped
1 tbsp ginger, finely diced
150ml rice wine vinegar
150ml lemon juice
2 tbsp fish sauce
45g white sugar
Borrowed from Frank Camorra at goodfood
Serves: 4
Preparation time: 30 minutes
Method:

Cut the cabbage in half lengthways and then finely shred it, cutting across the cabbage.
Place cabbage in a bowl with the spring onions and carrots. Roughly chop the coriander and Thai basil and add to the bowl. Cut the chilli in half then cut across into fine strips with the seeds.
Roughly chop the cashews and add them and the chilli to the bowl.
Place the remaining ingredients into a small jar and shake well until the sugar has dissolved. Dress the salad then mix well with your hands – make sure it all gets covered in dressing or it will taste bland. (Using your hands is best to mix this kind of salad as it's easier to get the dressing worked into all the components, which tastes far better.)
Pile it high on a plate and serve.