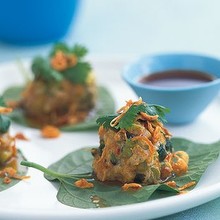 Pork Balls Wrapped In Betel Leaves
---
Ingredients:
375 g minced pork
1 heaped tablespoon red curry paste
1 egg, lightly beaten
2 spring onions, finely chopped
1 lemon grass stem, white part only, finely chopped
2 garlic cloves, crushed
1 × 4 cm piece ginger, finely chopped
1 large red chilli, seeded and finely chopped
3 tablespoons chopped coriander leaves
85 g (⅔ cup) finely sliced green beans
1 teaspoon sesame oil
Dressing
2 tablespoons sweet chilli sauce
2 tablespoons lime juice
2 tablespoons fish sauce
1 tablespoon grated palm sugar or soft brown sugar
To serve
40 betel leaves
3 tablespoons fried shallots
1 handful coriander leaves
Betel leaves, also known as wild betel leaves or cha plu, are tender, bright green leaves with a delicate but distinctive flavour. They are sold in bunches at speciality fruit and vegetable shops and Asian shops. If you can't find them, use witlof (chicory/Belgian endive) leaves.
Serves: 6 - 8
Preparation time: 30 minutes
Method:

Line the base of a large steamer with baking paper and punch with holes.
Put the pork, curry paste, egg, spring onion, lemon grass, garlic, ginger, chilli, coriander, beans and 1 teaspoon of salt in a large bowl and mix until well combined. Roll the mixture into walnut-sized balls then brush each ball lightly with sesame oil (alternatively, put a few drops of oil on your hands and roll them — replenish the oil every 3–4 balls). Place the balls in the prepared steamer and cover with a lid. Sit the steamer over a wok or saucepan of boiling water and steam for 10 minutes, or until cooked. Transfer to a serving bowl.
Meanwhile, to make the dressing, put the sweet chilli sauce, lime juice, fish sauce and sugar in a bowl and stir until well combined and the sugar has dissolved.
Put a stack of betel leaves on each serving plate so that your guests can make their own wraps. Place a pork ball on the matte side of the leaf, top with some fried shallots and coriander leaves and drizzle with the dressing. Delicious served with an ice-cold beer.