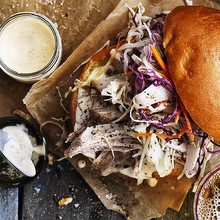 Pulled Pork Burger With Chipotle Mayo
---
Ingredients:
2kg pork shoulder, bone in
1/2 tbsp mustard powder
1 tbsp cumin powder
1 tbsp coriander powder
1 tbsp brown sugar
sea salt and freshly ground pepper
4 tbsp vegetable oil
1 brown onion, roughly chopped
4 cloves garlic, chopped
1 cup lager
2 cups chicken stock, approximately
fresh milk buns, to serve
For the coleslaw
½ small head (or ¼ large) white cabbage, shredded
½ small head (or ¼ large) red cabbage, shredded
2 large carrots, shredded
1 tsp celery seeds
1 tbsp wholegrain mustard
¼ cup apple cider vinegar
1 tbsp honey
¼ cup grapeseed oil
For the mayonnaise
1 cup mayonnaise
2 tbsp lime juice
chipotle powder, to taste
Borrowed from Neil Perry at goodfood
Serves: 10 - 12
Preparation time: 2 hours+
Method:

Remove skin from pork and trim off any excess fat. Combine the mustard, cumin, coriander, brown sugar, ½ tbsp salt and 1 tsp pepper. Rub the mix onto the pork, covering all areas. Allow to sit for 30 minutes.
Preheat oven to 150°C.
Heat the oil in a large Dutch oven over medium heat until almost smoking. Add pork and brown on all sides, 5 to 6 minutes total. Set aside.
Add onion, garlic and a pinch of salt. Fry for 3-4 minutes, stirring constantly, until beginning to brown, then add lager. Scrape bottom to release any stuck bits and simmer for a minute.
Add stock and place pork back into pot. Bring to a simmer, cover with a lid, then transfer to the oven.
Cook, turning the pork every hour, until it is tender, about 3½-4 hours.
For the coleslaw, combine the cabbage, carrot and celery seeds. Whisk together remaining ingredients, check seasoning, then gradually add the dressing to the vegetables.
For the mayo, combine ingredients, adding chipotle powder to taste.
Serve the pork at the table with mayonnaise, coleslaw and fresh milk buns, for everyone to make their own burgers.