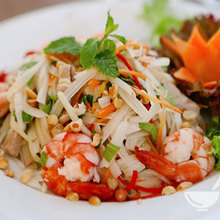 Lotus Stem Salad With Prawns
---
Ingredients:
18 green prawns
1/2 red onion finely sliced
1/4 cup carrot, finely sliced
1 tspn sugar
1/2 lime
1 large red chilli, julienned
1 tblspn roasted peanut, coarsely crushed
1 tblspn deep fried shallots
1/2 cup Vietnamese mint
1/2 cup sweet basil
1 jar (200g) lotus stems, sliced
DRESSING
1 tblspn lime juice
1 tblspn fish sauce
2 tblspns sugar
1 small clove garlic, finely chopped
Coriander leaves, to garnish
Thanks to Yukiko Anschutz at Sticky Rice Cooking School
Serves: 6
Preparation time: 30 minutes
Method:

Soak lotus stems in water for 10 to 30 minutes. Drain and squeeze out excess water.
In a bowl add carrot and onion sprinkled with sugar and squeeze lime over. Let sit for 10 minutes then drain out the excess liquid.
To make the dressing, cook fish sauce and sugar together in a small sauce pan. Turn off the heat and add the rest of the ingredients and mix.
Heat a pan or BBQ hot plate to very hot. Add some oil and the prawns. Cook the prawns until golden brown and cooked inside. Remove the prawns from the plate and place in a bowl. Add the rest of the ingredients and mix with the dressing.
Place on a serving platter and garnish with coriander leaves.