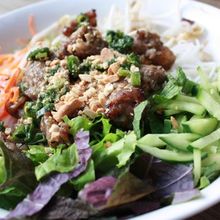 Marinated Grilled Beef With Spring Onion Oil
---
Ingredients:
400g rump steak, thinly sliced
1/2 tblspn black peppercorns, roasted, pounded
1 tblspn oyster sauce
1 tblspn soy sauce1/2 tspn sugar
1 - 2 small chilli, chopped
SPRING ONION OIL
4 spring onions, green part only, sliced
2 1/2 tblspns peanut oil
ACCOMPANIMENT
Lettuce cups
Fried garlic
Thai basil
Coriander leaves
Mint
Thanks to Yukiko Anschutz at Sticky Rice Cooking School
Serves: 4
Preparation time: 30 minutes
Method:

Cut the beef in to slices about 1cm thick and 4-5 cm long.
Combine the ingredients of the marinade and marinate the beef for a minimum of 30 minutes.
Heat a grill until smoking point and cook until done to your liking.
Meanwhile, gently heat the peanut oil and spring onion in a saucepan for 1 minute or until the spring onion has just wilted. Remove from the heat.
Place the beef on to the serving plate and drizzle with the spring onion oil.
Eat the beef on top of sticky rice with the accompaniment and Nuoc Cham dipping sauce.