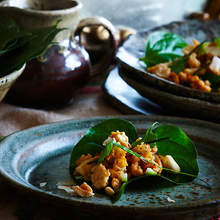 Betel Leaves Topped With Chicken, Roasted Coconut, Peanuts & Lime
---
Ingredients:
¼ cup shredded or flaked coconut
¼ cup raw peanuts
1 tbsp peanut or vegetable oil
2 garlic cloves, crushed
1 tbsp grated root ginger
1 small red chilli, seeded and finely chopped
250 g chicken mince
1 tbsp fish sauce
1 tbsp shaved palm sugar
18 betel leaves, rinsed and dried
½ lime, unpeeled and very finely diced
¼ cup coriander leaves
2 kaffir lime leaves, finely julienned
These make a great little nibble with drinks, you could plate up for a pretty entrée or serve deconstructed, as we have, on a platter for friends to share and make their own.
Serves: 6
Preparation time: 30 minutes
Method:

Preheat the oven to 180˚C. Roast the coconut and peanuts on separate trays for 5 minutes or until each is golden brown. Once cool, roughly chop the peanuts, set aside with the coconut.
Heat the oil in the wok over a high heat and sauté garlic, ginger and chilli for 1–2 minutes or until fragrant. Add the chicken mince and sauté until browned. Add the fish sauce and the palm sugar, stir until sugar is dissolved.
Serve each betel leaf topped with chicken mixture, a little sprinkle of the coconut, peanuts, diced lime and top with coriander and kaffir lime leaves.
Serve immediately.