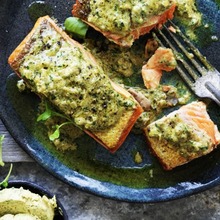 Pan Roasted Ocean Trout With Curry Butter
---
Ingredients:
4 x 180g ocean trout fillets, pin boned, skin on
sea salt and freshly ground pepper
extra virgin olive oil
For the curry butter
1 tbsp vegetable oil
¼ white onion, finely diced
1 tbsp Indian-style curry powder
125g unsalted butter, softened
1 small handful parsley leaves
1 clove garlic
juice of ½ lemon
2 tsp Worcestershire sauce
3 anchovy fillets
½ tsp capers, rinsed
½ tsp sea salt
1 tsp ground pepper
1 small handful basil leaves
1 small handful thyme leaves
½ tbsp ground ginger
Borrowed from Neil Perry at goodfood
Serves: 4
Method:

To make the butter, heat oil in a frying pan and cook onion and curry powder over low heat until soft and fragrant. Set aside to cool. Process all butter ingredients in a food processor until just combined.
Roll butter into a 3- to 4-centimetre diameter log, wrap in plastic and refrigerate until firm.
Cut butter into eight discs and sit on eight small individual squares of baking paper. Allow to soften while cooking the fish.
Heat olive oil in a non-stick frying pan over medium heat, season trout and cook, skin-side down, for 3 to 4 minutes, until skin is crispy. Turn and cook for 2 minutes or until cooked to your liking. Turn off heat and allow to rest somewhere warm.
Place trout on four large white plates, place two discs of the curry butter over each fillet, sprinkle with sea salt and finish with fresh pepper.
Serve immediately.