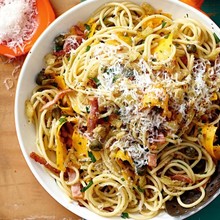 Pumpkin & Bacon Pasta With Garlic Crumbs
---
Ingredients:
375g dried spaghetti
350g butternut pumpkin, peeled
1/3 cup extra virgin olive oil
3 middle bacon rashers, trimmed, thinly sliced
1 1/2 cups coarse fresh breadcrumbs
2 garlic cloves, crushed
1 teaspoon dried oregano
1/4 cup finely grated parmesan
1 tablespoon capers
1/2 cup chopped fresh flat-leaf parsley leaves
Serves: 4
Preparation time: 30 minutes
Method:

Cook pasta following packet directions. Drain, reserving 1/3 cup cooking water. Return pasta to pan. Cover to keep warm.
Meanwhile, using a vegetable peeler, peel the pumpkin into thin ribbons. Heat 1 tablespoon oil in a large, non-stick frying pan over medium heat. Add bacon. Cook for 5 minutes or until golden. Drain on paper towel. Add pumpkin to pan. Cook for 2 minutes or until just tender. Transfer to a bowl. Cover to keep warm.
Reduce heat to medium-low. Add 2 tablespoons of remaining oil to pan. Add the breadcrumbs. Cook, stirring occasionally, for 1 to 2 minutes. Add garlic and oregano. Cook, stirring occasionally, for a further 3 to 4 minutes or until golden and crispy. Season with salt and pepper. Set aside.
Add pasta, reserved cooking water, parmesan, capers, parsley, bacon, pumpkin and remaining oil to pan. Season with salt and pepper. Gently toss to combine. Heat over low heat for 2 to 3 minutes or until heated through. Divide among serving bowls. Sprinkle with garlic crumbs.
Serve.