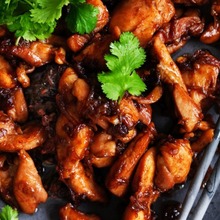 Chicken, Garlic & Eschallot Stir-Fry
---
Ingredients:
500g chicken breast fillets, very thinly sliced on an angle
¼ cup peanut oil
4 eschallots, peeled and thinly sliced
6 cloves garlic, roughly chopped
1/2 tsp salt
1 tbsp dark soy sauce
pinch of sugar
handful coriander leaves, to garnish
For marinade
2 tsp soy sauce
2 tsp Shaoxing wine
1 tsp sesame oil
1/2 tsp cornflour
pinch of white pepper
Borrowed from Adam Liaw at goodfood
Serves: 4
Preparation time: 30 minutes
Method:

Combine chicken and marinade ingredients and set aside.
Heat the wok over a high heat, then add the oil around the edges so that it coats the wok.
Add the eschallots and garlic and fry for about two minutes, until lightly browned and fragrant.
Add the chicken and salt and toss until browned and nearly cooked through.
Add dark soy sauce and sugar and toss to coat.
Remove to a plate, rest for a moment, garnish with coriander and serve.