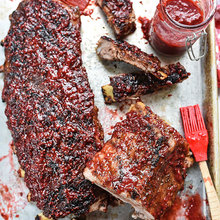 Raspberry Chipotle BBQ Ribs
---
Ingredients:
4 racks baby back pork ribs
2 cups apple cider
¼ cup sweet paprika
3 tablespoons dark brown sugar
2 tablespoons pepper
1 tablespoon chile powder
2 teaspoons garlic powder
2 teaspoons dry mustard
2 teaspoons celery salt
1 teaspoon kosher salt
1 teaspoon cayenne pepper
Raspberry Chipotle BBQ Sauce
Thanks to Heidi @ fodiecrush
Serves: 10 or so ...
Preparation time: 3 hours 30 minutes
Method:

Combine all dry ingredients and generously rub over surface of ribs. Refrigerate for 4 hours or overnight.
Preheat oven to 250 degrees. Place room temperature ribs on high edged baking sheet lined with wire rack set upon mason jar rings. Pour 1 cup apple cider in baking sheet, place ribs on the rack and cook for 1 ½ hours. Add another 1 cup cider and cook for another 1 ½ hours or until meat pulls apart from bones.
Preheat the grill to medium high. Grill the ribs for 7-10 minutes each side, basting with Raspberry Chipotle BBQ Sauce.
Serve warm.