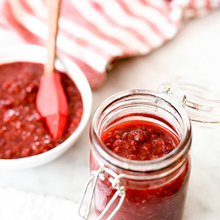 Raspberry Chipotle BBQ Sauce
---
Ingredients:
1 tablespoon vegetable oil
½ large or 1 small jalapeño, minced
2 chipotle peppers, minced, plus 1-2 tablespoons adobo sauce depending on heat
1 teaspoon garlic powder
16 ounces raspberries
⅓ cup granulated sugar
⅓ cup light brown sugar
⅓ cup apple cider vinegar
¼ cup water
1½ teaspoons liquid smoke
1 teaspoon kosher salt
1 tablespoon cornstarch
Thanks to Heidi @ foodiecrush
Serves: 2 cups
Preparation time: 30 minutes
Method:

Heat the vegetable oil in a medium saucepan over medium high heat.
Add the minced jalapeño and cook for 2 minutes or until softened, stirring often.
Add the garlic powder, chipotle pepper and adobo sauce and cook for 1 minute.
Add the raspberries, granulated sugar, brown sugar, cider vinegar, water, liquid smoke and kosher salt and bring to a boil.
Stir in the cornstarch, reduce to simmer and cook for 15 minutes or until thickened.
Add more adobo sauce to taste.
Cool and refrigerate until ready to use.
Serve on BBQ ribs, pork or chicken.
If you prefer a smooth sauce, strain the sauce through a mesh strainer to get rid of the seeds.