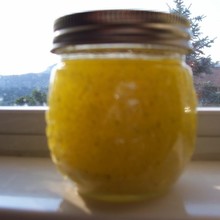 Parmesan Oil
---
Ingredients:
2 cups (500 ml) olive oil
100 g finely grated Reggiano Parmesan
20 g shaved Parmesan
Preparation time: 15 minutes
Method:

Combine the oil and grated Reggiano Parmesan in a small pan over low heat. Stir for 10–15 minutes, or until the cheese melts and clumps together. Remove from the heat.
Strain into a clean, warm 2 cup (500 ml) bottle and add the shaved Parmesan.
Seal and refrigerate for up to 2 months.
Serve at room temperature.