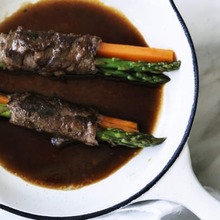 Wagyu Rolls With Asparagus & Carrot
---
Ingredients:
2 large carrots, peeled and cut into 1cm long square-ended batons
8 thin asparagus spears, trimmed
8 slices (about 150g) very thinly sliced wagyu sheets
1 tsp oil
2 tbsp soy sauce
1 tbsp sake
1 tbsp mirin
1 tsp sugar
hot English mustard, to serve
Borrowed from Adam Liaw at goodfood
Serves: 4
Preparation time: 1 hour
Method:

Bring a large pot of salted water to the boil and boil the carrots for about 3 minutes, until just tender, then plunge into iced water to stop the cooking. Blanche the asparagus for a minute until tender and again plunge into iced water.
Lay two sheets of wagyu overlapping slightly and place two pieces of asparagus and some carrot batons along one edge, as if to make a sushi roll. Roll the beef up to completely enclose the asparagus and carrot (the thinness of the wagyu slices will hold the rolls together).
Heat the oil in a large frying pan and fry the beef rolls, rolling them frequently so that they cook evenly. When the rolls are very nearly cooked through add soy sauce, sake, mirin and sugar. Roll the beef through the mixture as it caramelises. Remove from the pan, rest for 5 minutes then cut into 2.5cm lengths.
Serve with English mustard.