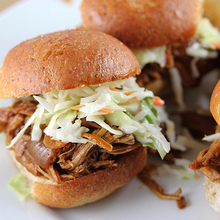 Pulled Pork Sliders
---
Ingredients:
1 x pork scotch
Pork Rub
1 tablespoon smoked paprika
1 tablespoon black pepper, ground
1 tablespoon salt
1 tablespoon brown sugar
1 teaspoon onion powder
1 teaspoon garlic, granulised
1 teaspoon cumin
1 teaspoon Slap Ya Mama
1 teaspoon oregano
0.5 teaspoon cayenne pepper
Spritz Mix
1 part olive oil
1 part chilli sauce
2 parts apple cider vinegar.
2 parts apple juice
Slider buns
Serves: Lots
Preparation time: 30 minutes + overnight, cook time 8 - 10 hours
Method:

Mix all the spices in a bowl, and transfer to a shaker bottle or empty spice jar for application.
Lather the pork in olive oil, liberally shake pork rub over pork and pat spices into the pork. Roll over the pork and ensure all surface area is caked with spices.
Wrap the pork in cling film being sure to leave no air pockets, and store in the fridge overnight ready for the cook.
Set up a kettle BBQ using the snake method and wood chips, with a target temperature of 100C - 130C.
Cook pork (indirect) until the internal temperature is 90C, spritzing intermittently during the cook.
When internal temperature of 90C is reached, remove, wrap in foil and place in small esky / cooler bag stuffed with tea towels to keep warm.
Serve on slider buns with apple slaw and BBQ sauce.