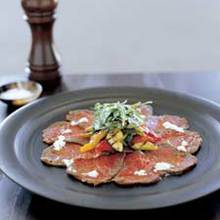 Beef Carpaccio
---
Ingredients:
beef fillet
2 tsp sea salt
1 tsp fresh cracked black pepper
1 tsp fennel seeds
1 tsp coriander seeds


SALAD
1 diced avacado
1 chilli, deseeded & diced
coriander
juice of 1/2 lime
sea salt to taste
fresh cracked black pepper to taste
1 medium beetroot, roasted & diced
basil
wild rocket leaves
olive oil
Method:

Grind the dry ingredients to a coarse powder and roll fillet in the mix,making sure it is completely covered. Tightly wrap with glad-wrap and refrigerate for 2 hours.
Mix the avocado, chilli, coriander and lime juice, and add salt and pepper to taste. In a separate bowl combine the beetroot and basil.
Pre-heat a flat BBQ plate to smoking and drizzle a little oil over. Remove eye fillet from fridge and sear for 1 minute on all sides. Allow to cool, then warp in glad-wrap again and place in the frdige until ready to serve.
Remove meat from fridge and thinly slice the fillet across the grain. Lay meat flat on a serving plate in a circular plate. In the centre of the meat (using a mould) spoon someavocado mix, then repeat the process with the beetroot. Scatter some rocket leaves around the dish and drizzle some oil over, then garnish with some fresh cracked black pepper and sea salt.