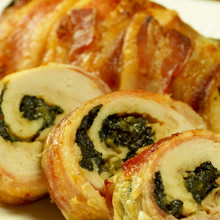 Stuffed Chicken Breast
---
Ingredients:
4 chicken breast halves, boneless & skinless, pounded to 1/2" thickness
2 tsp olive oil
250g fresh spinach leaves
½ cup sour cream
½ cup cheddar cheese, grated
4 cloves garlic, minced
1 jalapeno, seeded & diced
3 tsp Slap Ya Mama Original Blend Seasoning
12 slices bacon
toothpicks
Serves: 4
Preparation time: 30 minutes
Method:

In a large skillet over medium heat add olive oil, garlic and jalapenos. Sauté until garlic starts to brown. Reduce heat to medium-low, add spinach leaves and sauté until wilted. Add 1 tsp Slap Ya Mama Original Blend Seasoning, cheese and sour cream. Stirring continuously, cook mixture until cheese is melted.
On a clean surface, lay chicken breasts flat and season with the remaining 2 tsp of Slap Ya Mama Original Blend Seasoning. Spoon a little spinach mixture onto each breast. Roll up each breast with spinach mixture inside and wrap each breast with 2 or 3 slices of bacon, securing the ends with a toothpick.
Arrange breast on a baking dish. Bake uncovered at 190C for 35 minutes. Then set oven to broil and broil for 10 minutes or until bacon is browned. Remove toothpicks, slice into medallions or serve whole and enjoy!