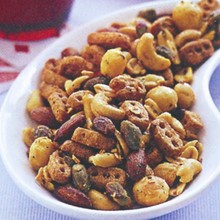 Nuts & Bolts
---
Ingredients:
295g nutrigrain cereal
375g salted peanuts
1 pack French onion soup mix
1 pack cream chicken soup mix
1 tablespoon curry powder
1 teaspoon mustard powder
1/2 cup vegetable oil
A great festive snack!!
Serves: 20
Preparation time: 10 minutes
Method:

Place nutrigrain and peanuts in a bowl.
Warm oil over low-medium heat. Remove from heat, and stir through dry powders.
Pour flavoured oil over nutrigrain/peanut mix and stir to coat all ingredients.
Store in a sealed container.