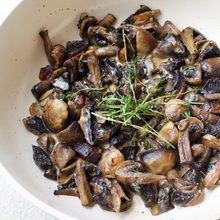 Creamy Thyme Mushrooms
---
Ingredients:
18-20 button mushrooms
1 garlic clove
1 tbsp olive oil
2 tbsp coconut milk
8-10 thyme sprigs
1 tsp sea salt
Serves: 2
Preparation time: 15 minutes
Method:

Chop button mushrooms into quarters. Finely slice garlic clove.
Heat 1 tbsp olive oil in a non-stick pan on medium-heat.
Add chopped garlic clove to pan and sauté for 2-3 minutes, until golden and fragrant.
Add mushrooms to pan and sauté for another 3-5 minutes, until cooked. Season generously with sea salt and sprinkle over thyme leaves.
Once mushrooms are wilted and cooked, add coconut milk and sauté for one more minute, until coconut milk has slightly evaporated.
Sprinkle with extra thyme sprigs and serve.