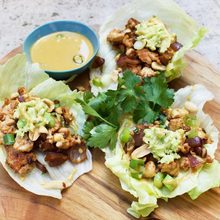 Chicken San Choy Bow
---
Ingredients:
1 tsp coconut or olive oil, for frying
2 garlic cloves, minced
1 red onion, finely diced
1 tsp sea salt
150g organic chicken mince
1 tbsp tamari sauce
1 tbsp olive oil
2 tbsp parsley, finely chopped
1 head of iceberg lettuce
1/2 avocado, smashed
1 tbsp sesame seeds
Extra sesame seeds, chopped spring onion and parsley, to garnish
Tamari-Mustard Dressing:
2 tbsp Dijon mustard
1 1/2 tbsp tamari sauce
1 tsp sesame oil
1 tbsp spring onions, chopped
1/4 cup water
Serves: 2
Preparation time: 30 minutes
Method:

Heat coconut oil in a large non-stick frying pan.
Add the minced garlic cloves and sauté until golden.
Add the chopped red onion and a tsp of salt, sauté until golden.
Add the chicken mince, tamari and olive oil and sauté until brown and well-cooked. Set aside.
Prepare lettuce cups by chopping off the stem of the lettuce and carefully pulling each lettuce leaf/cup away from the head of lettuce. Set aside and repeat until you have 5-6 lettuce cups.
In another small bowl, smash the avocado and add 1 tbsp sesame seeds. Set aside.
To make the dressing, add the mustard, tamari, sesame oil, spring onions and water to a small bowl and whisk until combined.
To serve, add 2 heaped tbsp of the cooked chicken mince to each lettuce cup and top with dressing, spring onion and parsley.