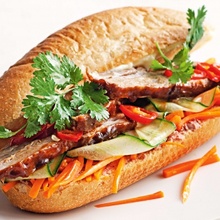 Pork Banh Mi
---
Ingredients:
500g piece pork belly
8 long white rolls,halved horizontally
60 gm chicken liver pâté
2 Lebanese cucumbers, thinly sliced lengthways into strips
Coriander
Thinly sliced long red chilli
Light soy sauce
280 ml white wine vinegar
110g (½ cup) sugar
1 carrot, cut into matchsticks
½ daikon, cut into matchsticks
Serves: 8
Preparation time: 1 hour
Method:

For pickled carrot and daikon, combine vinegar, sugar and 250ml warm water in a saucepan over medium heat, stir until sugar dissolves, then transfer to an airtight container and set aside to cool. When cool, add carrot and daikon, cover and refrigerate to pickle (at least 2 hours and up to a week).
Preheat oven to 200C. Score pork skin at 1cm intervals with a small sharp knife. Scatter with 2 tbsp sea salt flakes and rub all over skin and into cuts. Roast pork until golden and cooked through and skin has crackled (40-45 minutes). Set aside to rest (10 minutes), then thinly slice.
Spread rolls with pâté, top with pork slices, then cucumber, pickled carrot and daikon, coriander and chilli, season to taste with light soy sauce.