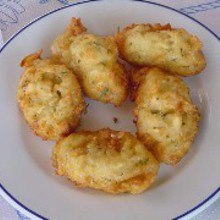 Deep Fried Zucchini Flowers
---
Ingredients:
300g flour
25g yeast
salt
250ml tepid water
zucchini flowers
mozzarella or bocconcini
anchovy fillets
Method:

Add the yeast to tepid water and stir in to the sifted flour and salt. Cover with a cloth and put in a warm place to rise for an hour to hour and a half.
When ready to use check the consistency of the batter. Add a little more tepid water if the batter seems too thick, but remember it needs to be fairly dense so that the batter clings to the vegetables.
Remove the stalks, stamens and pistils from the zucchini flowers and wash carefully. Shake dry and wrap in kitchen towel. Open the flower carefully and stuff with a baton of mozzarella and small piece of anchovy fillet. Twist ends of the flower to close.
Heat the oil for deep-frying and when it reaches 180C swirl the stuffed flowers in the batter and drop carefully 3 or 4 at a time into the oil. Fry for a few minutes then remove with a slotted spoon, drain and serve at once.
In Rome they are eaten with your fingers.