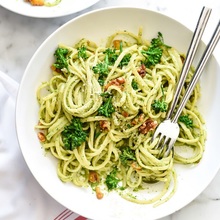 Linguine with Broccolini and Walnut Pesto
---
Ingredients:
⅓ cup plus ¼ cup halved walnuts
½ pound broccolini, ends trimmed
1 clove garlic, peeled
½ lemon, juiced
Pinch of crushed red pepper
Pinch of kosher salt
½ cup extra virgin olive oil
½ cup grated Parmesan cheese
500g linguine
Borrowed from Heidi @ foodiecrush
Serves: 6
Preparation time: 30 minutes
Method:

Spread the walnuts on a baking sheet lined with aluminum foil and toast them in a toaster oven until fragrant and golden, about 5-8 minutes. If you don't have a toaster oven, toast in a regular oven or a dry pan over medium heat. Set aside to cool then roughly chop and set aside ⅓ cup of the walnuts then roughly chop the remaining ¼ cup and set aside.
Bring a large pot of water to a boil and salt generously with salt. Cook the broccolini for 2-3 minutes just until tender. Drain and rinse in cold water to cool and drain again. Chop the broccolini.
Add the garlic to a food processor and mince. Add the ⅓ cup walnuts and pulse until fine, scraping the walnuts from the edges of the bowl. Add the broccolini with the lemon juice, crushed red pepper and kosher salt and process until fine. While the processor is running, slowly drizzle the olive oil into the bowl. Scrape down the bowl and add the Parmesan cheese, then season with more salt as desired.
Bring a large pot of water to a boil and season generously with salt. Cook the linguine until al dente according to the package directions. Drain the noodles and reserve 1 cup of the pasta water. Transfer the linguine to a bowl and stir in the pesto. Add ¼ cup of pasta water and toss to coat, adding more pasta water to desired consistency. Toss in the ¼ cup of the reserved toasted walnuts. Taste for seasoning and garnish with Parmesan cheese, chopped parsley or additional blanched broccolini florets if desired.