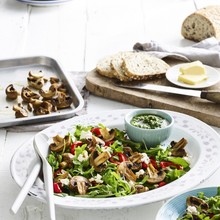 Warm Roasted Mushroom & Almond Pesto Salad
---
Ingredients:
For the Pesto:
2 cups parsley leaves
35 g Parmesan cheese, roughly chopped
1/2 cup olive oil
1/2 lemon, juiced
2 garlic cloves
1/2 cup blanched almonds
For the Salad:
250 g cup mushrooms, quartered
200 g roasted capsicum, sliced
1 tbsp red wine vinegar
100 g marinated feta, crumbled
200 g mixed baby salad
Serves: 4
Preparation time: 30 minutes
Method:

For the pesto place the parsley, parmesan, 1/3 cup olive oil, zest, juice, garlic and half the almonds in a food processor and blend until smooth. Set aside.
Preheat oven to 200C fan forced. Toss mushrooms, capsicum, vinegar and remaining olive oil in a bowl. Spread onto a roasting pan lined with baking paper and roast for 10 minutes. Add almonds and feta and increase oven to 250C. Cook for a further 5 minutes.
Place salad leaves, mushrooms, capsicums on a platter and dress with as much pesto as you like.