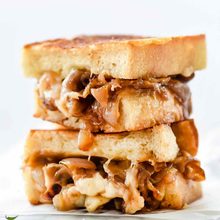 French Onion Grilled Cheese Sandwich
---
Ingredients:
2 large onions
5 tablespoons butter, divided
1 tablespoon canola oil
1 teaspoon kosher salt
2 sprigs fresh thyme sprigs
3 tablespoons water or wine, white or red, whatever is on hand
1 teaspoon bouillon soup base (optional)
8 slices sourdough bread
1 cup gruyere cheese, grated
Caramelized onions and melty gruyere cheese between toasted french bread make an amazing grilled cheese sandwich with all of the flavours of everyone's favourite soup.
Borrowed from Heidi @ foodicrush
Serves: 4
Preparation time: 30 - 45 minutes
Method:

Peel and slice the onions into large slices. In a large skillet over medium heat, melt 1 tablespoon of butter with the canola oil. Add the onion slices, sprinkle with the salt, and reduce the heat to low and cover with a lid. Add the thyme sprigs. Stir every 15 minutes or so, raising the heat if the onions seem to be taking a long time, but watch to be sure they don't burn.Add the wine or water and the bouillon soup base, mixing into the onions, cooking to become even more jammy as they cook. Remove from heat when cooked down.
Spread ½ tablespoon of butter on one side of the silces of bred, then stack buttered sides together. Layer the slices of bread with the cheese, then the caramelized onions, and more cheese. Top with another slice of bread, buttered side up. Repeat with the additional slices of bread.
Place bread buttered side down in a fry pan over medium heat. Cover with a lid and let cook for 3-4 minutes or until golden.
Reduce the heat to medium-low and flip sandwich to the other side and cook for 2-3 minutes or until bread is toasty golden and cheese has melted. The second side will cook faster than the first so watch carefully.
Cut in half and enjoy hot.