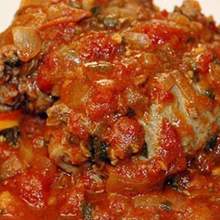 Beef Olives (Bragioli)
---
Ingredients:
Sauce
3 tbsp olive oil
2 large onions, diced
5 garlic cloves, crushed
400 g tin tomatoes
1 cup flat-leaf parsley leaves
½ cup basil leaves
2 bay leaves
250 ml red wine
500 ml water
salt and pepper
Beef Olives
6 thin slices of topside or round steak
400 g minced veal
2 bacon rashers, diced
2 garlic cloves, crushed
½ cup finely chopped flat-leaf parsley
1 tbsp finely chopped oregano
1 spring onion, finely sliced
½ cup grated gbejniet (Maltese cheese)
2 eggs, beaten
salt and pepper
Serves: 6
Preparation time: 2 hours
Method:

To make the sauce, heat the oil in a large saucepan and add the onion and garlic. Fry until softened. Add the remaining ingredients and leave to simmer while you prepare the bragioli.
Flatten the beef slices with a mallet and set aside. Mix the remaining ingredients together well, seasoning with salt and pepper. Place a generous tablespoon of mixture on each slice of beef, spreading out well. Roll up and secure with toothpicks or tie with butcher's string. Place the rolls in the sauce and simmer for 1½ hours over low heat.