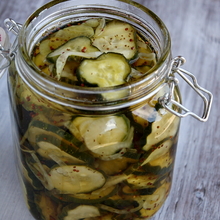 Bread & Butter Pickles
---
Ingredients:
5 1/2 cups (750g) thinly sliced pickling cucumbers
1 1/2 tablespoons kosher salt
1 cup thinly sliced sweet onion
1 cup granulated white sugar
1 cup white vinegar
1/2 cup apple cider vinegar
1/4 cup light brown sugar (packed)
1 1/2 teaspoons mustard seeds
1/2 teaspoon celery seeds
1/8 teaspoon ground turmeric
Borrowed from Lori @ Recipe Girl
Serves: About 4 cups
Preparation time: 24 hours
Method:

Combine cucumbers and salt in a large, shallow bowl; cover and chill 1 1/2 hours.
Move cucumbers into a colander and rinse thoroughly under cold water. Drain well, and return cucumbers to bowl.
Add onion to the bowl.
Combine sugar and remaining ingredients in a medium saucepan; bring to a simmer over medium heat, stirring until sugar dissolves.
Pour hot vinegar mixture over cucumber mixture; let stand at room temperature 1 hour.
Cover and refrigerate 24 hours.
Store in an airtight container in refrigerator up to 2 weeks.