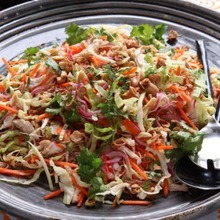 Vietnamese Chicken Coleslaw
---
Ingredients:
3 chicken breasts
1/2 cup rice vinegar
3 tbsp sugar
1 red onion, sliced
250g cabbage, shredded
1 large carrot, peeled and shredded
2 tbsp olive oil
1 tbsp mint
Coriander leaves
1 tbsp chopped roasted peanuts
1 tbsp crisp fried shallots
Nuoc mam dipping sauce
1/2 tsp sugar
3 tbsp fish sauce
1 tbsp fresh lime juice
1 red chilli, sliced
Serves: 4
Preparation time: 30 minutes - 1 hour
Method:

Put chicken in saucepan of water and bring to boil. Simmer until chicken is just cooked. Drain and set aside.
Combine vinegar and sugar, marinate sliced onion for 30 minutes.
Mix cabbage and carrot together in a large bowl. Shred the chicken with your fingers and combine with cabbage. Add onion and marinade, drizzle with oil and toss well to combine.
Garnish with mint, coriander, peanuts and shallots.
Serve with dipping sauce.