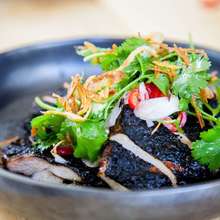 Black Pepper Chicken
---
Ingredients:
Marinade
6 pieces boneless chicken breast, skin on
150g lemongrass, thinly sliced
125g whole garlic cloves
150g tamari
25g fish sauce 
25g palm sugar
83g black peppercorns, toasted
100g coriander stems, chopped
25g toasted coriander seeds
2.5g kosher salt, or just a pinch
Grapeseed oil, as needed
1 fresh coriander, bunch, rinsed
Red pepper, thinly sliced, as needed
Fresh lime juice, as needed
Fried onions, as needed
Serves: 6
Preparation time: 2 hours
Method:

Preheat sous vide bath to 65C.
Combine all the marinade ingredients together in a blender. Use a tamper (or muddler) to get those ingredients a-mingling, then finish things off by blending until you've got a pesto like sauce.
Lay your chicken breasts skin-side up on your work surface. Using a brush or rubber spatula, spread the sauce all over the skin. Bag up your chicken and place in the water bath to cook.
Cook for 1 - 2 hours, depending on the thickness of the chicken.
When the chicken has finished cooking, remove the bag from the water. Get your grill rippin' hot, and as it heats, douse those bird breasts with some grapeseed oil. Transfer the chicken to the hot grill and allow one side to blacken. When it looks nice and charred, flip and repeat on the other side. Remember, your chicken is fully cooked, so be careful just to sear the outside.
Top your chicken breasts with some coriander and peppers if you like, then drizzle with lime and toss on some fried onions.