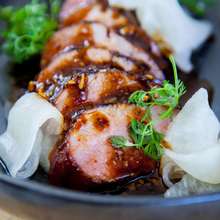 Char Siu Pork
---
Ingredients:
1 pork fillet, whole
118g honey
5g five spice powder
5g smoked paprika
4.5g white pepper
40g Shaoxing rice wine
5.5g sesame oil
150g Hoisin sauce
33g molasses
50g garlic, minced
Borrowed without permission from ChefSteps
Serves: 4
Preparation time: 1 hour 45 minutes
Method:

Preheat sous vide bath to 58C.
Divide pork into two, evenly-sized portions and place in the bag. Add a light coating of marinade, reserving about a quarter of it for serving.
Cook in heated water bath for 1.5 hours.
When the pork has finished cooking, remove it from the bag. Either allow it to dry for a few minutes or pat dry with a paper towel. Drizzle the pork with oil and transfer to a very hot grill. Glaze with the marinade left in the bag. When the surface of the meat looks nice and charred, flip and repeat, then remove from grill. Remember, your pork is already perfectly cooked, so keep your sear as quick as you can!
Pour the remaining sauce over your grilled pork, slice, and serve.