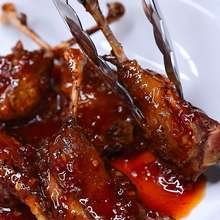 Ginger Chilli Duck Legs
---
Ingredients:
12 duck legs, skin on
5g Kosher salt 
75ml Thai chili sauce
30ml soy sauce 
15ml Hoisin sauce
30ml rice wine vinegar
15ml honey
1g fresh grated ginger
Sesame seeds, as needed
Chives, diced, as needed
Long cooking times break down the meat into delicious little drumsticks made to be picked up with your fingers and eaten like chicken wings. This sticky, spicy glaze is inspired by popular Thai recipes, but you can use any of your favorite wing sauces instead.
Serves: 2 - 4
Preparation time: 30 minutes, 16 hours
Method:

Season the legs with a dash of kosher salt.
Place 5–6 legs in each of two sous vide bags, making sure not to crowd them—you want a single layer in each bag so they have enough room while they cook. Remove all the air from the bags, and seal.
Cook in sous vide machine for 16 hours at 70C.
When the legs are done cooking, start the spicy ginger-chili sauce by whisking the Thai chili, soy, and hoisin sauces together in a small pot. Stir in the rice wine vinegar, honey, and freshly grated ginger, then bring to a fast simmer. Cook for 5–7 minutes, or until the liquid thickens into a glaze.
Turn your oven's broiler to high, and let it preheat for a bit. Arrange the duck legs skin-side up on a foil-lined pan. Slide the pan under the broiler, and cook for 3–5 min, or until the skin gets crisp.
Pour the chili-ginger glaze over the legs, and toss to give them a sticky, spicy coating. Sprinkle the legs with sesame seeds and diced chives, then dig in with your fingers. Be sure to have plenty of napkins on hand—along with a cold beverage to cool the burn.