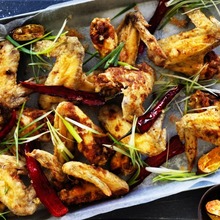 Deep Fried Chicken Wings With Chilli, Salt & Finger Lime
---
Ingredients:
12 large chicken wings (about 1.5kg)
⅓ cup plain flour
1½ tbsp chilli powder
2 tsp salt flakes
vegetable oil for deep-frying
4 large red chillies, cut in half lengthways, seeds removed
¼ cup spring onion, julienned
6 finger limes, cut in half on the diagonal (or use 2 lemons, halved)
Borrowed from Kylie Kwong @ goodfood
Serves: 4 - 6 as a starter
Preparation time: 30 minutes
Method:

Arrange chicken wings on a heatproof plate that will fit inside a steamer basket. Place plate inside steamer and position over deep saucepan or wok of boiling water and steam, covered, for four minutes.
Carefully remove plate from steamer basket, drain away excess liquid and set aside for 15 minutes to cool slightly.
Meanwhile, combine flour, chilli powder and salt in a large bowl. Add chicken wings in two batches and toss to coat well, shaking off any excess flour.
Heat oil in a hot wok until surface seems to shimmer slightly. Add half the chicken wings and deep-fry for about seven minutes or until just cooked through and lightly browned. Using tongs, turn wings occasionally to ensure even cooking. Remove with a slotted spoon and drain well on kitchen paper. Repeat process with remaining wings.
Add chillies to the same hot oil and fry for about one minute for until they are deep red. Remove with a slotted spoon and drain well.
Arrange chicken wings on a platter and garnish with fried chillies and spring onions. Serve immediately with finger limes, which should be squeezed on top of the wings, at the table.