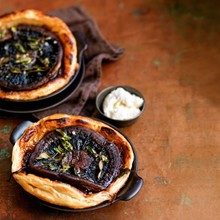 Field Mushroom Tartlets
---
Ingredients:
2 sheets frozen ready-rolled butter
puff pastry, partially thawed
1/3 cup purchased caramelised onion or chilli jam
10g butter
1 tbsp olive oil
4 field mushrooms, trimmed
1 tbsp thyme leaves
soft goat's curd, to serve
Celebrate the earthy, delicious flavours of mushrooms with this simple dish that is perfect for using in-season field mushrooms. Serve with goat's curd as a tasty starter.
Serves: 4
Preparation time: 30 minutes
Method:

Preheat oven to 200˚C. Line a baking tray with baking paper. Cut pastry circles 1.5cm larger than the size of mushrooms and place onto prepared tray. Spread onion or chilli jam onto pastry, leaving a 1cm border.
Heat butter and oil in a non-stick frying pan over medium heat. Add 2 mushrooms, underside of mushrooms down. Cook for 3 minutes or until golden. Transfer mushrooms to prepared pastry, underside facing up. Cook remaining 2 mushrooms and transfer to pastry.
Sprinkle with thyme. Bake for 20 minutes or until pastry is puffed and golden. Serve tartlets with goat's curd.